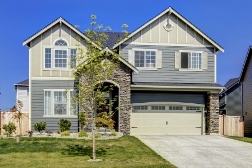 Last week's economic reports included several readings related to housing The Wells Fargo/National Association of Home Builders Housing Market Index, the Commerce Department's releases on Housing Starts and Building Permits, and the National Association of Realtors® report on Existing Home Sales supplied mixed news on recent developments in housing. Freddie Mac and the Labor Department released their usual reports on mortgage rates and weekly jobless claims. The details:
NAHB: Builder Confidence Slips, But Remains Positive
The Wells Fargo/ National Association of Home Builders (NAHB) released its Housing Market Index report for April. Although April's reading was two points lower at 54, any reading over 50 indicates that more builders consider housing market conditions positive than not. April's reading on builder confidence was the 11th consecutive index reading over 50.
According to NAHB, builder confidence in present housing market conditions dropped by two points to a reading of 59, while builder confidence in market conditions over the next six months rose one point to 64. Builder expectations for buyer foot traffic dropped by one point to 39. The lower readings for buyer traffic could be related to more home shoppers starting their home search online.
Building Permits, Housing Starts Show Improvement
The Commerce Department reported that building permits for April were higher at 1.14 million as compared to the March reading of 944,000 permits issued in March. Analysts expected a reading of 1.03 million permits issued, This was the highest reading for building permits since mid-2008.
Housing starts rose by a noteworthy 20 percent to a reading of 1.14 million in April, but analysts cautioned that this reading was inconsistent with the more moderate pace of improvement in overall housing markets. The Commerce Department reported that starts of single family homes rose by 17.60 percent to a reading of 666,000 starts. This was the highest rate of single-family starts since early 2008, but analysts noted that April's high reading for housing starts could reflect delayed starts that were impacted by winter weather.
Existing Home Sales Fall Due to Rising Home Prices
The National Association of Realtors® reported that sales of previously owned homes dropped as home prices increased. A tight supply of available homes and higher home prices slowed the sales pace of existing home sales. April sales of existing homes fell from the March level of 5.21 million sales to 5.04 million sales; analysts had forecasted a higher sales volume of 5.24 million existing homes sold.
Rising home prices pose challenges to first-time and moderate income home buyers, and strict mortgage standards can make it tough for those with less than stellar credit scores to qualify for mortgages. Rising home prices are good news for homeowners as bidding wars have been reported in high-demand areas.
Mortgage Rates Lower, Jobless Claims Up
Freddie Mac reported that average mortgage rates were slightly lower. Mortgage rates for a 30-year fixed rate mortgage dropped by one basis point to 3.84 percent. Discount points rose from 0.60 to 0.70 percent. Mortgage rates for a 15-year fixed rate mortgage averaged 3.05 percent with average discount points of 0.60 percent. The average rate for a 5/1 adjustable rate mortgage was one basis point lower at 2.88 percent; discount points were unchanged at 0.50 percent.
Weekly jobless claims rose to 274,000 new claims filed. This reading exceeded expectations of 269,000 new claims and the prior week's reading of 264,000 new claims. Analysts said that although this was a four-week high for new unemployment claims, layoff s remain low. Year-over-year, new jobless claims were 16 percent lower. New jobless claims remain close to a 15-year low and layoffs hit their lowest level on record. This news could build prospective home buyer confidence as job security plays a major rrole in most decisions to buy a home.
What's Ahead
This week's housing related reports include the S&P Case-Shiller 10 and 20-City Home Price Indexes and the FHFA Home Price Index. New and Pending Home Sales reports and the usual mortgage rates and weekly jobless claims reports are also scheduled.