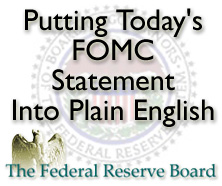 The minutes for the most recent meeting of the Federal Reserve's Federal Open Market Committee (FOMC) suggest that while committee members won't specify a date, a rate hike could come sooner than later. Committee members continue to cite concerns over labor markets and other economic factors, but the minutes of the FOMC meeting held July 28 and 29 indicate that a majority of members see a rate change as likely in the near term.
Economic Conditions "Approaching" Readiness for Rate Hike
According to the minutes released Wednesday, the time for raising rates is not hear yet, but a majority of FOMC members feel that the time is approaching when economic conditions will warrant an increase of the target federal funds rate which is currently set at 0.00 to 0.25 percent. When the Fed increases this rate, consumer loan rates including mortgage rates are expected to increase as well.
Achieving maximum employment is one of the Fed's mandates; labor markets continue to improve as the national unemployment achieved its lowest reading for 2015 as of June, but labor force participation and the unemployment to population ratio have also declined. On a positive note, the number of part-time workers was lower and under-utilization of workers was lower than since the beginning of the year.
Committee members continued to have varied opinions about whether employment rates are low enough to indicate that the Fed's mandate of "maximum" employment had been achieved.
Inflation remains below the 2.00 percent medium-term goal set by the Fed. FOMC members have consistently indicated that they don't expect to see inflation achieve the target rate in the near term.
Housing Markets Show Improvement
The minutes noted that while construction of new homes declined in June, new starts increased over the second quarter. Sales of new homes were lower in June, but sales of existing homes increased. Building permits issued suggest the rate of construction is stable but little changed. Pending home sales were stable and suggest little change in completed home sales in the near term.
A jump in multifamily building permits were attributed to an expiring tax credit date, but housing analysts have repeatedly cited the millennial generation as preferring to live and work in large metro areas where housing can be out of reach for all but the top tier of earners. In other economic sectors, the minutes said that auto loans and student loans continued to grow.
The FOMC minutes indicate the same position of FOMC members in recent months; while the national unemployment rate is low, the Fed does not expect to see inflation at the agency's target rate of 2.00 percent immediately. Committee members note that they will continue to monitor domestic and global financial conditions as part of the fact-finding process necessary for deciding when to the federal target funds rate,
Speculation over when the Fed will move to raise rates has persisted for several months and will no doubt continue until the Fed does decide to raise rates.